I was fortunate enough to get a ticket to Google I/O this year. Google I/O is Google's yearly developers conference held in San Francisco. They have a lottery to win the chance to buy a ticket. While the conference itself was great in content and scope, I'm going to focus this post on Google's push for diversity. Specifically their push to get more women into tech, at conferences and generally in the same room as men in the tech community.
My first indication of how hard Google was working on this came when I got the invite for a ticket from the Women Techmakers group. They were searching for women and they were doing a great job finding us. I saw their outreach at PyLadies and Systers via their respective mailing lists. I'm pretty sure they contacted other groups as well.
Once I did buy my ticket, I was invited to the Women Techmakers' Slack. They created a safe place for women to meet prior to the conference. In hindsight, this was complete brilliance. We joined the Slack group about a month before the conference. More than 750 women opted to sign up for it. We were able to create subgroups and plan events. We had a connection way before the conference even started. It was exciting to see so much brilliance and energy in one place. I was able to connect with women developers from all over the globe. I found a subgroup of Latinas that helped me realize I wasn't going to be the lone hispanic female. I know we all exist, don't get my wrong, but this huge group helped immensely with feelings of inadequacy and feelings of "I don't belong." As the conference approached, plans were made for a dinners the night before, meetups with subgroups, and big group pictures. The excitement in the Slack was invigorating!

Then the day came to go start this journey. I stood in line to get my badge and noticed women. Not 50/50 obviously, but enough that I didn't feel like I stuck out. Then that evening, I went to the Women Techmakers dinner I had been invited to at Town Hall. Wow! I have never, at any conference or event, felt like I did when I walked into that restaurant. It was amazing. The women there spanned races, ages, sizes and languages. I don't want to seem like I'm overblowing this, but it was transformational. I felt like I could do anything. I could be successful. I had no clue what levels these women were at, but they were there and I was there. And by golly we belonged there. The evening was fantastic. Dinner was superb. The conversations floated between work, families, fears and accomplishments. I left that evening knowing that whatever else happened at the conference, this day had already given me much more than I had expected for my entire trip.


Bright and early the next day I headed out to grab a spot in line for the Keynote. I had secured a seat by picking up my badge early the day before so I was excited to just get in line! We waited for a really long time. Then the winds shifted and we started moving past big Android mascots and volunteers handing out donuts and coffee. Once inside, I periscoped our walk into the Keynote, because this is the kind of thing one does at a tech conference. It was amazing. You can see the Keynote here, but being there was surreal! Curved screens spanned three walls of the huge room. The screens turned from a giant aquarium with a whale swimming across to a Rube Goldberg machine. The Keynote had multiple Women speakers, which cemented my thoughts on Google's push. They're trying, hard! They also announced my favorite thing out of Google I/O, Google Photos. I'm not sure what I would do without it now. They've got so many exceptional projects they're working on. It was a very fun and energizing way to kick off the conference.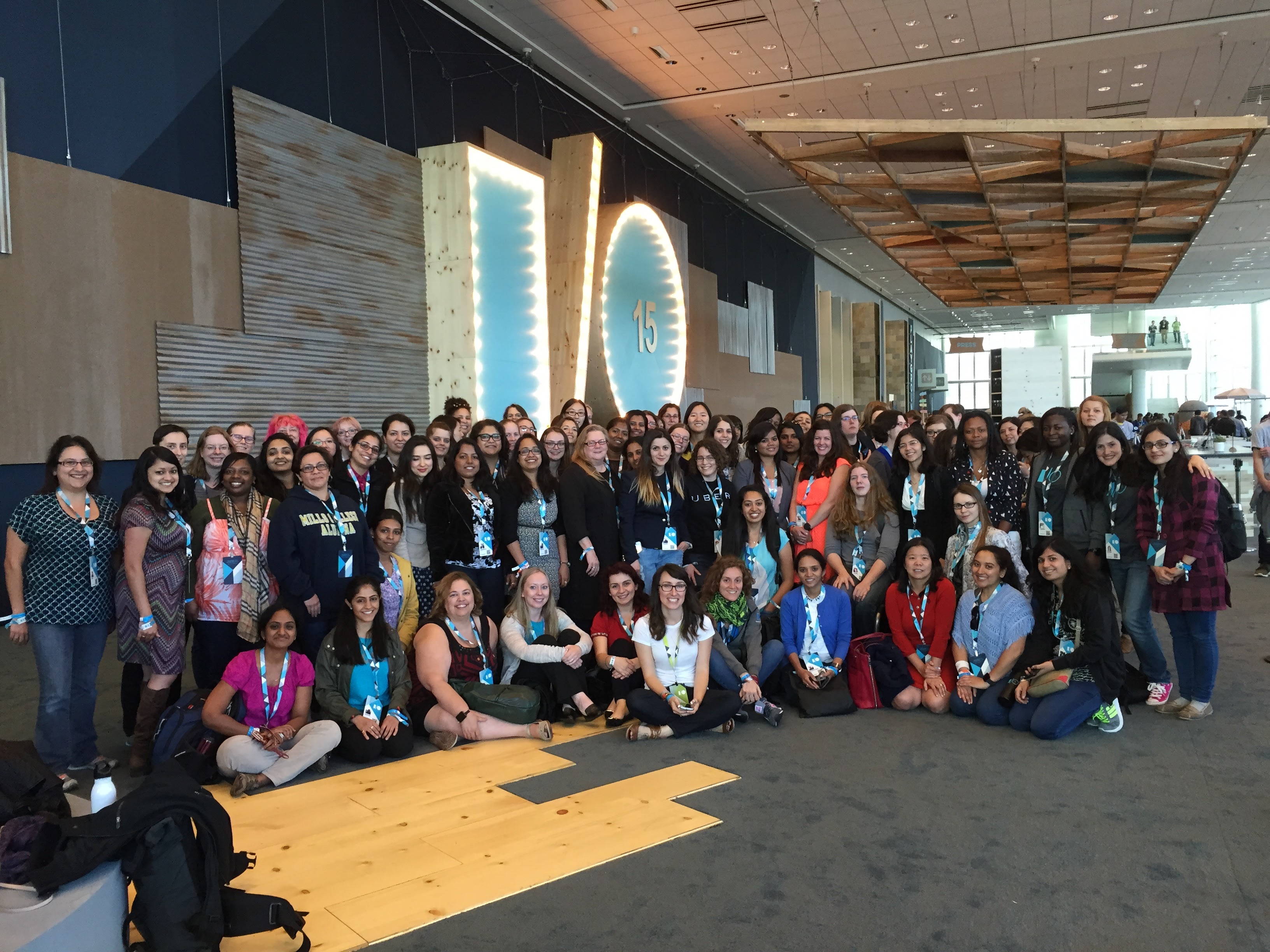 After the keynote we all got Google Cardboard VR boxes. I had a ton of fun playing with it and my iPhone. We would also later get Nexus 9's. Swag perks of Google I/O are pretty nice! I grabbed some lunch and then made my way to sessions. There were playgrounds and activities all around, so when one (or many) sessions would fill up, you could stop and swing or go sit on a Fatboy beanbag and relax. I ended up going through some code labs they had setup. It was a big curve to overcome when you're not in that ecosystem, but it was interesting and made me want to look at them again when I was back home. Before the conference day was over, we had Systers group photo taken. There I met Marian and Kim. I also saw Tamara from the night before. We quickly bonded and decided to walk to the Systers party before heading out to the Google I/O After Hours party.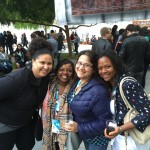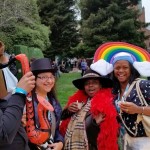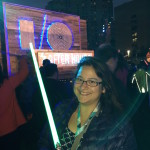 The next day was a rough one for me. I woke up with a migraine and wasn't able to capitalize on all the sessions. I opted to recover on a beanbag and get my new Nexus up and running. I managed to make the afternoon sessions. And I got to the Lovefield talk I'd been wanting to see. Though seating and distractions didn't help with getting a good grasp on it. I also managed to make the Engineering for the Stratosphere talk presented by Women Techmakers. It's an amazing project! Then the day started to wind down. The conference was ending with an improv performance done by some of the Googlers in town. And the Women Techmakers still had one last picture to take. (see top)
I ended up at an Uber party and the Google Closing Party that evening. I had some great conversations with people and bid my goodbyes early. I had a flight out the next day and had to pack up that nice Google Swag!
—-
A few weeks after, I was having a particularly stressful day. I was feeling like I was being used as the token hispanic female for a project. I said the following to a friend: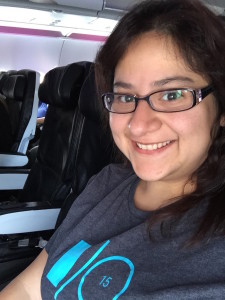 "Sometimes I just feel like that's why I'm at some things.[Being a Hispanic Female] But I will say that at Google I/O the feeling of anything is possible was super prevalent because there were so many women and all kinds of women. Maybe not all of them were android developers(me) but just seeing them there, sends a conscious and subconscious message not just to men, but very much to women. It's ok for us to be here.
So I'll continue to do it, sometimes reluctantly. Because I've experienced what it's like to see people like me where it seems like they shouldn't be. And it made a difference."